9 Things You Didn't Know About La Traviata On Sydney Harbour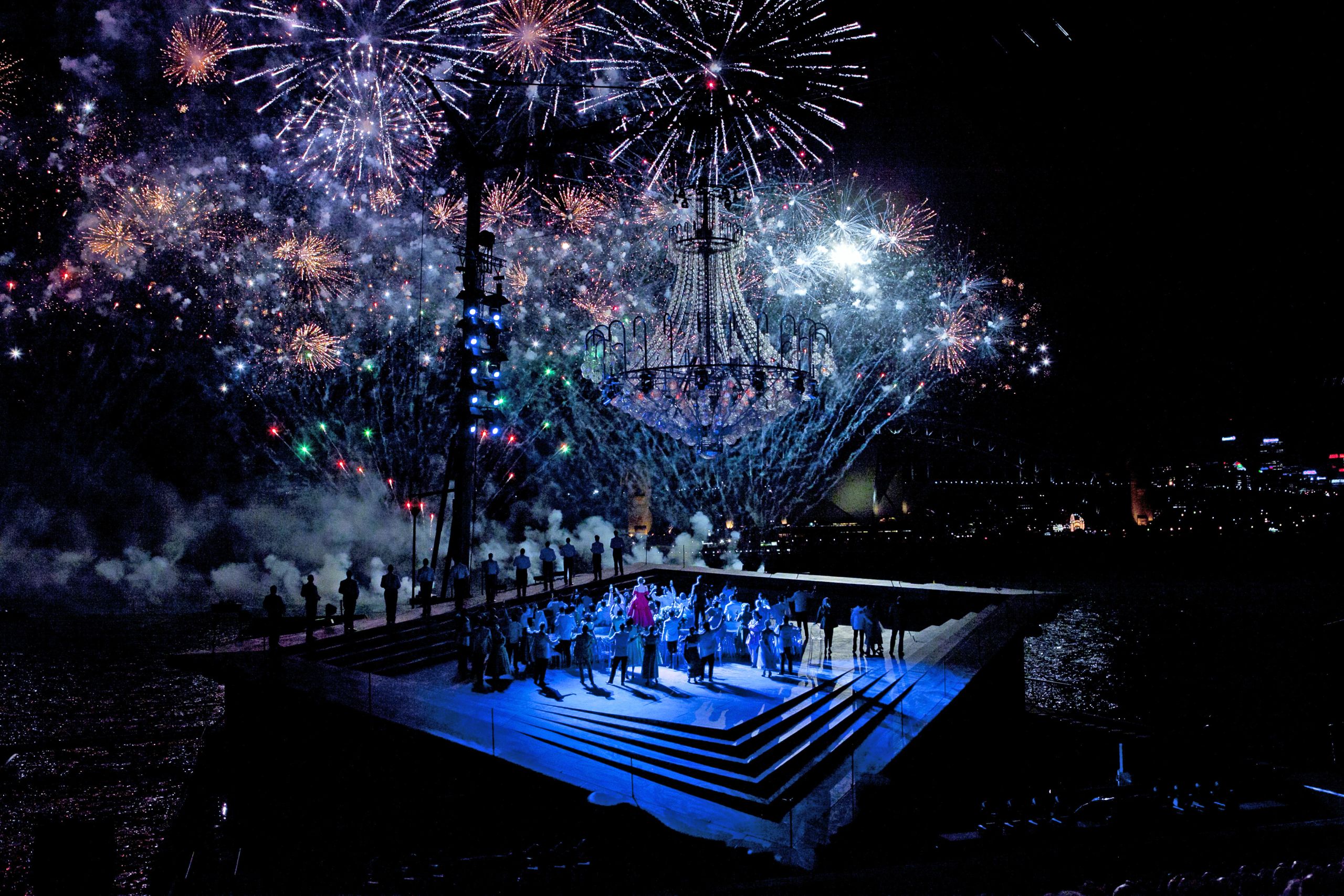 Opera Australia's production of La Traviata on Sydney Harbour in 2012 | Photo by Lisa Tomasetti.
Opera Australia's production of La Traviata on Sydney Harbour in 2012 | Photo by Lisa Tomasetti.
Every year, Opera Australia builds a custom-made theatre from scratch on the shores of Sydney Harbour. With a stage more than twice the size of any indoor stage in Australia, five restaurants and a 3,000-seat grandstand, this is a mammoth feat of logistics, skill and sheer imagination. Here's how we do it.
1. The entire pop-up site is built in about 25 days.
The bulk of the construction happens in the first 15 days. During this time surf lifesavers keep an eye on construction staff working over the water. On day 15, the cast and creatives begin on-stage rehearsals while the finishing touches are added to the rest of the site. That's pretty fast for an entire outdoor theatre to materialise.
2. The giant chandelier that hangs over the Sydney Harbour stage weighs in at a whopping 3.5 tonnes.
It's nine metres wide and nine metres tall. Add 10,000 crystals, and it's no surprise it's so heavy!
3. In a traditional theatre, our orchestra plays from the orchestra pit, but for Opera on Sydney Harbour 40 musicians are hidden in a custom-built, enclosed studio beneath the stage.
Affectionately known as the "underworld", the studio takes up 120 square metres, with two air conditioning units running at all times to keep it at a suitable temperature for care of the musical instruments. The performers on stage can see the conductor via a video screen, and vice versa. The singers also wear in-ear monitors so they can hear the orchestra perfectly.
4. There are 600 lights used throughout the pop-up site.
This includes 140 moving lights and six follow-spotlights, as well as one kilometre of festoon lighting hanging throughout the site. The stage and venue are powered by 65 kilometres of power, data and audio cable.
5. 80 people perform in the cast, including 12 principals, 40 chorus members, 20 dancers, and 8 actors.
But there's just enough space for one more! Ever fancied being on the big stage? You could be the 81st cast member in one of our walk-on roles.
6. The Paris skyline at the back of the stage is 30 metres long and lit with LED lighting strips. It features a 15 metre tall Eiffel Tower.
You'll also spot other famous Paris landmarks, such as the Sacré-Cœur, Notre Dame and Moulin Rouge.
7. It took our wardrobe department over 7,700 hours to create the costumes.
Beyond the lavish dresses and extravagant suits, let's talk shoes. There are 178 pairs in this production, all ready to help our cast dance the night away.
8. The rubber floor tiles used in our restaurants, bars and around the venue are composed of up-cycled rubber tyres which would have otherwise been burned or sent to landfill.
We aim to make our site more sustainable by: using bespoke vacuum flush toilets that use 80% less water than traditional toilets, producing printed materials on recycled paper, choosing biodegradable and environmentally friendly packaging, and hiring bio-diesel generators to support the power requirements for the event.
9. Almost 21,000 glasses of sparkling wine are served up each year. Cheers to that!
You can grab a glass at one of our five different pop-up bars and restaurants on site, including the Travel Associates Platinum Club which has gourmet menus and spectacular views of the Sydney Harbour.