The art of Il Viaggio a Reims
A virtual catalogue of all the famous art you'll see on stage in this playful production of Rossini's lost opera.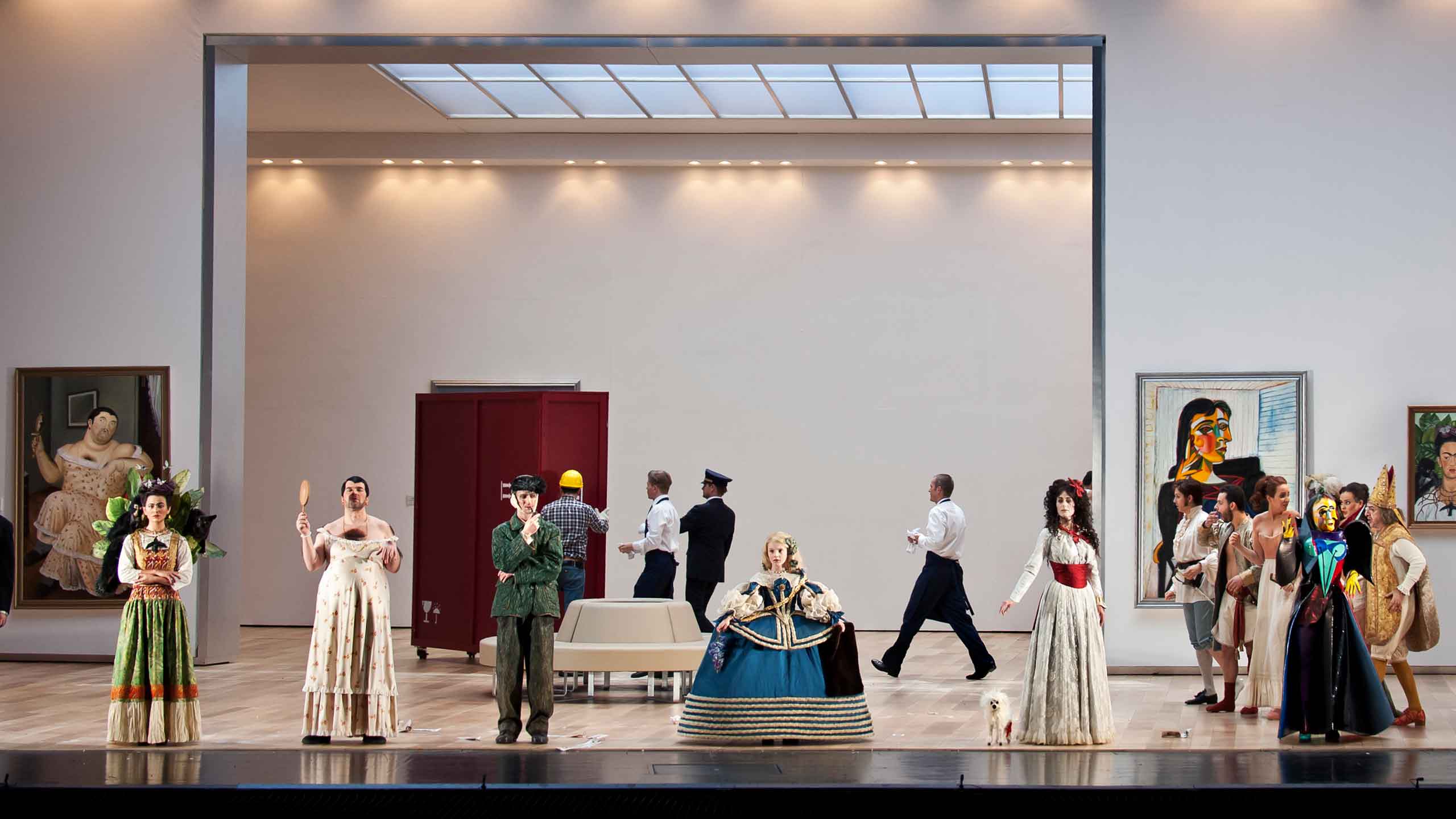 Photo: Courtesy of Dutch National Opera, Amsterdam. (© Clärchen and Matthias Baus)
Photo: Courtesy of Dutch National Opera, Amsterdam. (© Clärchen and Matthias Baus)
1
Infanta Margarita Teresa in a Blue Dress (1659)
Diego Velázquez

Kunsthistorisches Museum, Vienna, Austria
This is one of the best known works of Spanish painter Diego Velázquez. It portrays Margarita Teresa, a Spanish princess, at age 8.
2
The White Duchess (1795)
Francisco Goya

Collection of the Duchess of Alba, Madrid, Spain
Doña María de Pilar Teresa Cayetana de Silva Álvarez de Toledo was a muse of Francisco Goya. She was the XIII Duchess of Alba.
3
The Three Graces (1814-1817)
Antonia Canova

Victoria and Albert Museum and Scottish National Gallery
This marble neoclassical statue depicts three charites, the daughters of Zeus. They represent beauty, cheer and elegance.
4
Portrait of Madame X (1884)
John Singer Sargent
Metropolitan Museum of Art, New York, United State of America
Sargent painted this portrait of a young socialite, Virginie Amélie Avegno Gautreau, because he desired to pay homage to her beauty.
Although she had refused similar requests from other artists, Gatreau agreed to sit for Sargent. She proved a difficult subject. Sargent struggled with "the unpaintable beauty and hopeless laziness of Madame Gatreau".
5
Self-Portrait with Bandaged Ear and Pipe (1889)
Vincent Van Gogh
Van Gogh Museum, Amsterdam, The Netherlands
Van Gogh famously cut off his own ear with a razor in 1889 after an argument with painter Paul Gauguin.
6
Self-Portrait with Thorn Necklace and Hummingbird (1940)
Frida Kahlo
Harry Ramson Center, Museum of the University of Texas, Austin, United States of America
Kahlo painted this self-portrait not long after her affair with photographer Nickolas Muray ended.
7
Le Fils De L'Homme (1964)
René Magritte
Private Collection
Le Fils De L'Homme translates as The Son of Man. Magritte intended it as a self-portrait.
8
One Man Show (1985)
Keith Haring
Location Unknown
Haring rose to prominence creating chalk graffiti art in subways, where he developed his signature style of bold lines and bright colours.
9
Melancholia (1989)
Fernando Botero
Private Collection
Botero is a prominent Columbian artist whose work often exaggerates form.
10
Sacre de Charles X (1825)
François Gérard
Musée des Beaux-Arts, Chartres, France
Gérard was a prominent French painter, commissioned to record the coronation of Charles X.
In this production, the characters of the opera are gathering to recreate this painting.