Cheat Sheet: La Bohème
Everything you need to know about one of the world's most popular operas.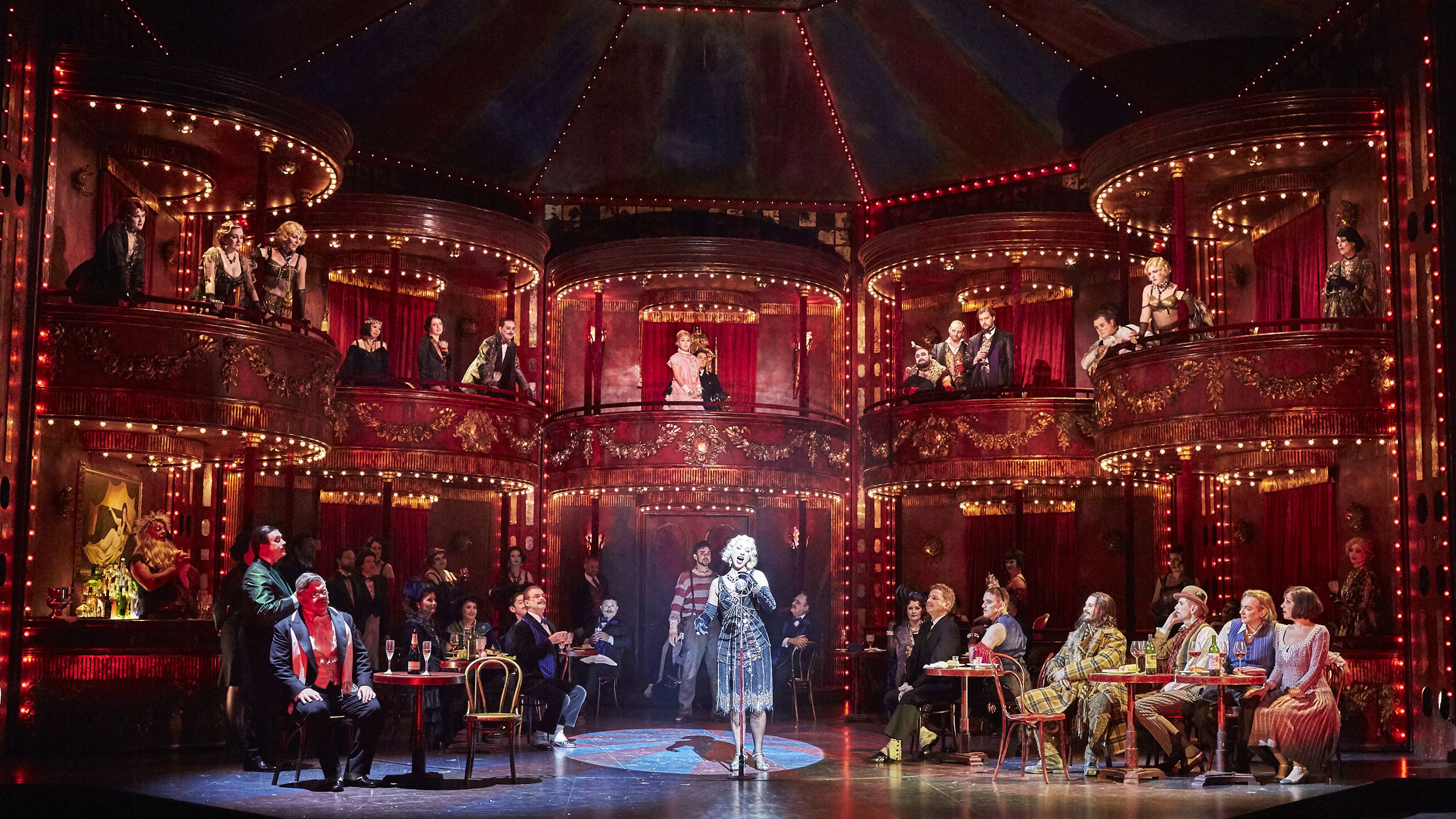 Opera Australia's 2019 production of La Bohème. Photo: Keith Saunders
Opera Australia's 2019 production of La Bohème. Photo: Keith Saunders
Who was the composer?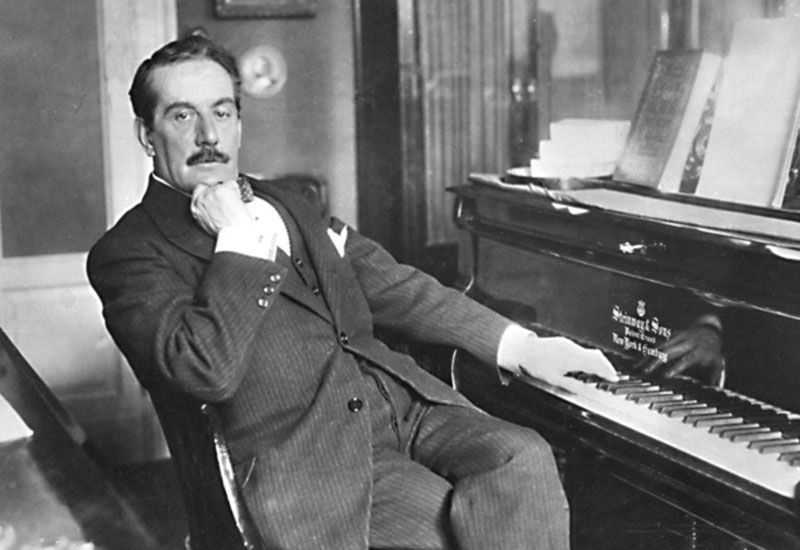 Giacomo Puccini. Born in Tuscany in 1858, Puccini is an Italian composer who took Verdi's crown as the most prominent composer of Italian opera in his day.
Renowned for his love affairs, Puccini left a trail of broken hearts across Italy, but also left us music-lovers 10 beautiful operas, three of which are regularly in the top 10 of operas performed around the world.
What makes Puccini, Puccini?
Puccini's music is sweeping, uplifting, enchanting and always intensely moving. However, his real genius was to combine that music with stories about ordinary people.
The composer himself once said his success was due to putting "great sorrows in little souls".
What happens in the story?
A poet, a painter, a musician and a philosopher walk into a bar (no really!) to celebrate a sudden windfall in a lean winter. It's Christmas Eve, and the poet has just felt the first pangs of great love. When a seamstress knocks on his door searching for candlelight, the pair fall in love faster than she can sing "Yes, they call me Mimì..."
Between the ideals of love and art, and the cruel realities of cold winters, bitter jealousies and empty pockets, two sets of lovers are trying to find their way.
By the time the curtain falls, you'll know the answer to an eternal question:
Is love enough?
That sounds familiar...
It's a common tale! La Bohème has inspired all kinds of adaptations.
Seen Rent? Jonathan Larson's 1996 smash-hit musical borrows several characters and plotlines from Puccini's smash-hit opera. Baz Luhrmann's award-winning film Moulin Rouge also borrows a bit from the Puccini classic (that Luhrmann made his name directing for Opera Australia in 1990).
Puccini even borrowed some of his own memories. The composer was a poor student in his youth, living a life very similar to the young bohemians of his opera. He wrote in his diary:
"I lived that bohème, when there wasn't yet any thought in my brain of seeking the theme of an opera..."
Opera Australia's 2020 production of La Bohème at the Sydney Opera House.
Opera Australia's 2020 production of La Bohème at the Sydney Opera House.
Who are the main characters?
Rodolfo — a poet
Mimì — a seamstress
Marcello — a painter
Musetta — a singer
Schaunard — a musician
Colline — a philosopher
What's the big hit?
'Musetta's Waltz' is a standout in the score.
It was the theme song in Moonstruck and is often referenced in movies, television programs and advertisements. It was also a hit pop song in 1959, when Della Reese released 'Don't You Know'—based on Musetta's famous tune.
Something to listen out for
Puccini sets the scene with music, so listen out for sound effects. At the beginning of Act III as snow begins to fall on stage, the flutes and the harp take up a beautiful melody. Soak it up — it captures the feeling of fresh snow flakes on cold noses.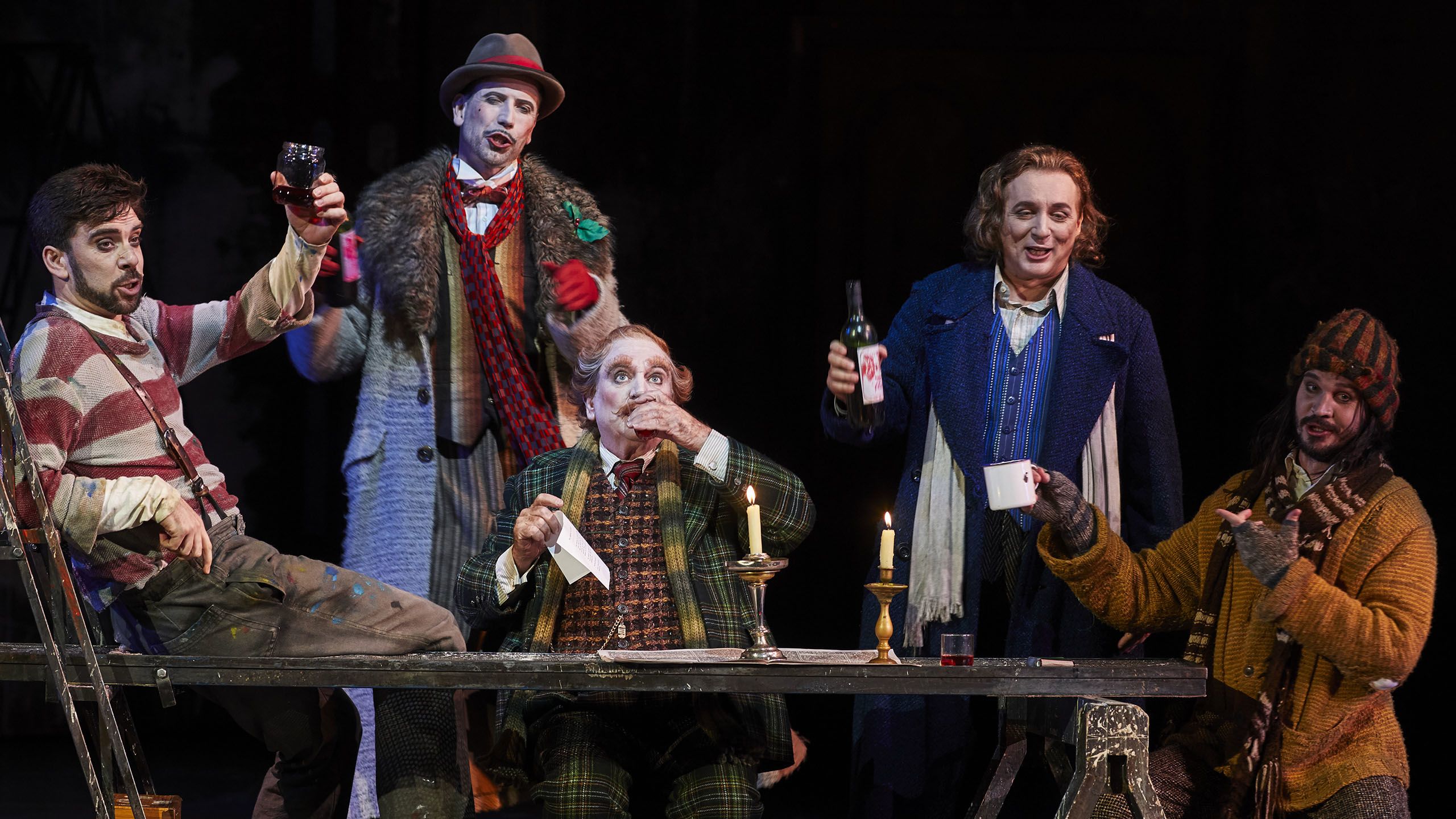 A scene in Opera Australia's 2019 production of La Bohème. Photo: Keith Saunders
A scene in Opera Australia's 2019 production of La Bohème. Photo: Keith Saunders
This production is...
Director Gale Edwards has moved the action to 1930s Berlin, among the social upheaval of the last months of the Weimar Republic.
It's a gift to the designers (sets: Brian Thomson, costumes: Julie Lynch), who have drawn a world of sumptuous velvet and glittering fairy lights.
Marcello paints his work upon the walls of the bohemian's freezing garret, while the Café Momus is a hedonistic wonder of revolving balconies, fringes and fishnets.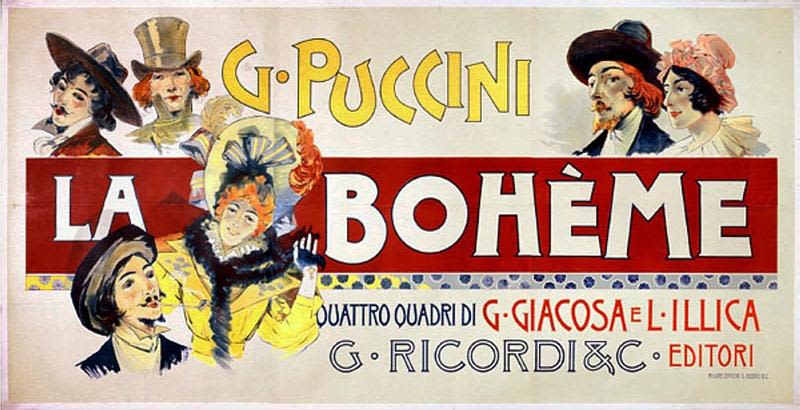 A little history
The librettists Illica and Giacosa adapted a popular novel (then play) by Henri Murger about Bohemian life in 1840s Paris. Puccini began working on the opera, enraging a fellow composer, Leoncavallo, who claimed to have been working on a similar libretto first! Puccini declined to cease writing, saying, "Let him compose, and I will compose. The public will judge." They did. Leoncavallo's version is all but forgotten.
Puccini's new opera premièred in Turin in 1896, and after a mixed reception, it became a runaway success. By 1900, it had been performed in many of the leading opera houses across Europe and the Americas by some of the stars of the day. Dame Nellie Melba sang Mimi for the Royal Opera House in Covent Garden.
The young Arturo Toscanini conducted the world première.
Conversation starters
While the opera has four acts, Puccini didn't call them "acts". He thought of them as "images".
Puccini's opera omitted one of the acts prepared by the librettists. In the missing act, Mimì dances with a viscount at a party and thus sets the scene for Rodolfo's terrible jealousy in Act III.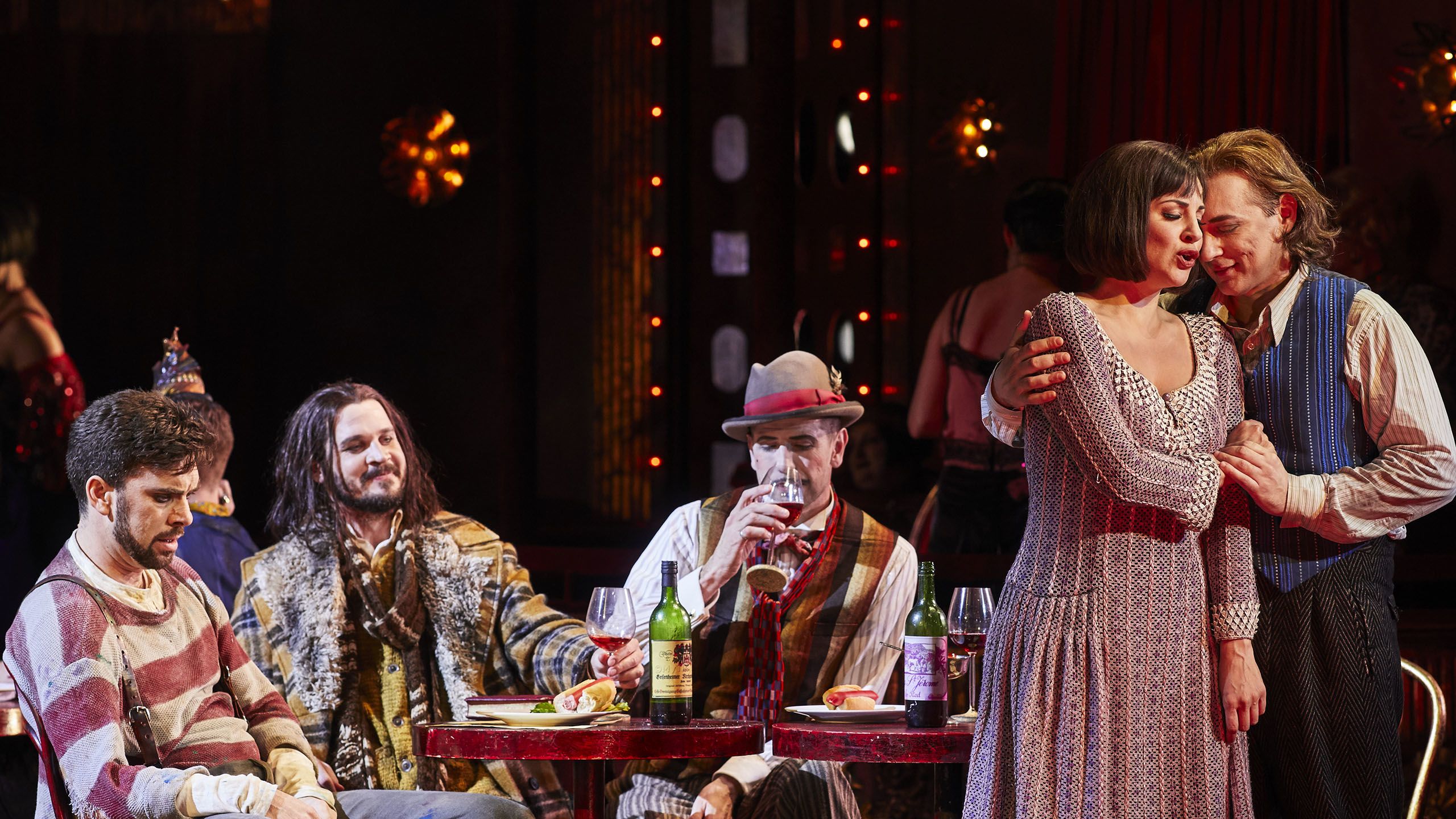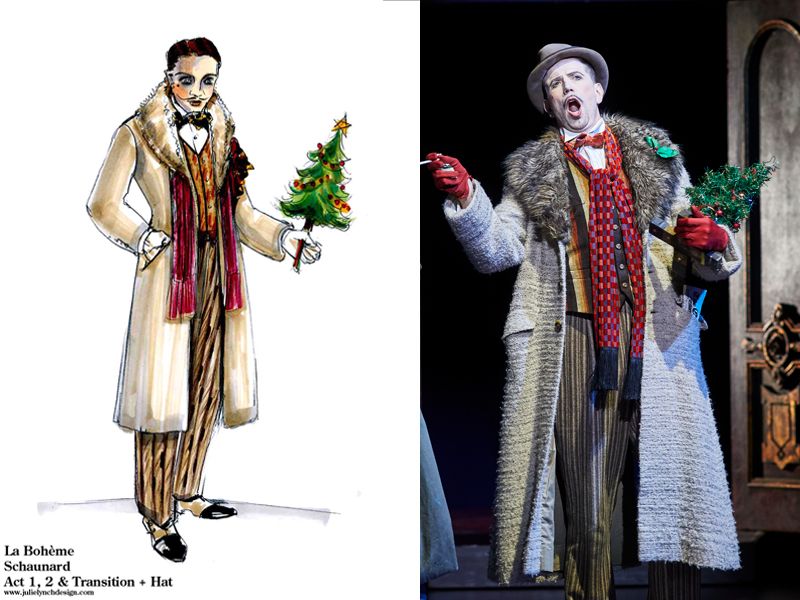 In a nutshell
The composer: Puccini. Italian. Late 19th Century. Also famous for Madama Butterfly and Turandot.
The music: Famous for his big, sweeping, tuneful melodies coupled with stories about ordinary people. He said his success came down to putting "great sorrows in little souls". (In other words, bring the tissues.)
The big hit: Full of the kind of tunes that tug your heartstrings, the most famous is probably 'Musetta's Waltz'.
The setting: Originally set in 1830s Paris, director Gale Edwards has relocated this opera to 1930s Berlin (giving us burlesque bars, fairy lights and fishnet stockings!)
A quirky fact to impress your date: Puccini decided to cut the opera by one act, removing a vital part of the story. If you're wondering why Rodolfo gets so jealous in Act III, it's because in the missing act, his lover Mimì dared dance with someone else at a party!