Fishnets and fringes
Facts about La Bohème's beautiful costumes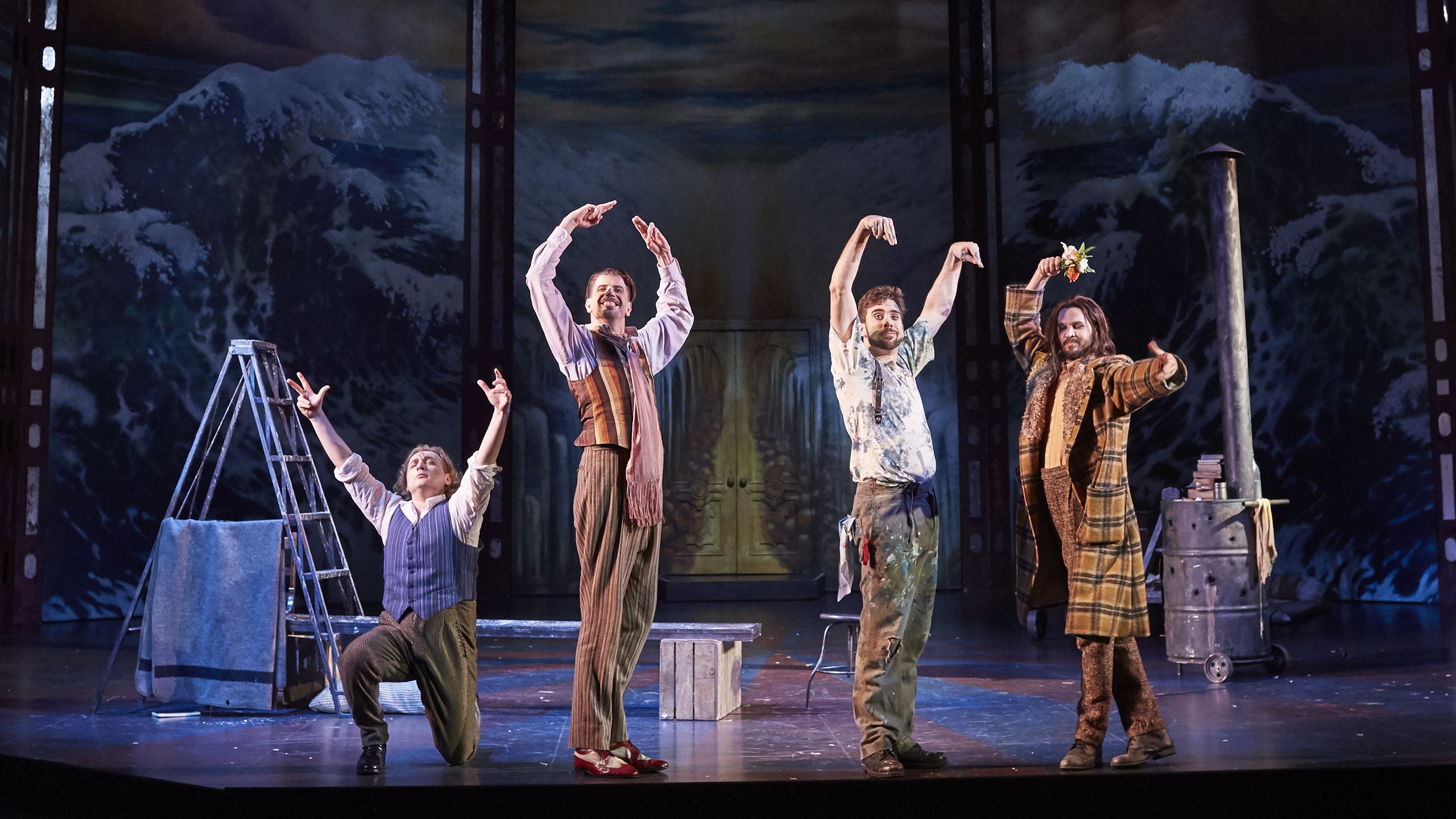 Opera Australia's 2019 production of La Bohème. Photo: Keith Saunders
Opera Australia's 2019 production of La Bohème. Photo: Keith Saunders
Take one look at Julie Lynch's costume designs for La Bohème and it's clear the designer is a details person.
Sketches for just one individual Chorus member include hand-knitted gloves, a period coat, hat and even an elegant little pair of glasses perched on the end of her nose.
Multiply that by 48 (the number of Chorus members), and you have yourselves a budget headache before you've even looked at the principal costume designs.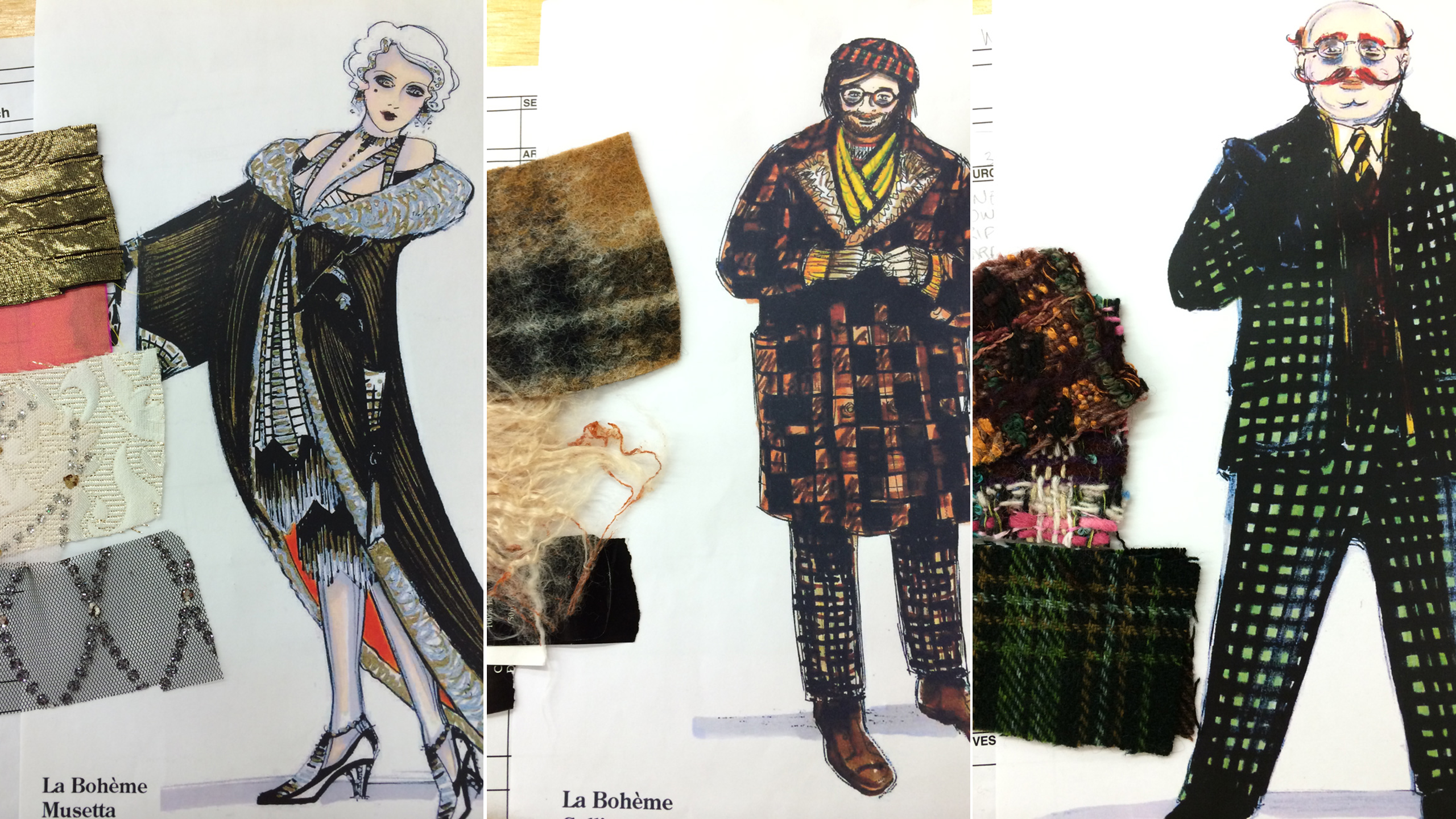 Julie Lynch's costume designs for Musetta, Colline and Benoît in La Bohème.
Julie Lynch's costume designs for Musetta, Colline and Benoît La Bohème.
So how do you dress a big cast of bohemians?
German winters are no joke, so the costume designs feature a lot of coats. (They have quite a role in Puccini's opera too. At the climax of the opera, one of the characters even sings a loving ode to his coat.)
Wardrobe buyer Miranda Brock trawled op-shops and pored over online listings.
The result? A wardrobe full of men's coats, including two vintage 1930s motorcycle coats, covered in buckles and bands.
Coats that couldn't quite pass as 1920s were covered with dyed, knitted scarves and hoods until they looked appropriate.
The motorcycle coats proved the perfect inspiration for Marcello's leather coat, and Brock's thrifty shopping left enough budget to make it by hand.
Brock sought out online craft businesses to source hand-knitted gloves, scarves and shawls. That allowed her to support small homemakers while ensuring everyone on stage looked different.
Fabrics, trims and potato sacks
All of the swinging tassles, elegant fringes and embroidered borders were made to order by skilled artisans in India and then makers stitched them onto costumes in the Opera Australia wardrobe department.
Fabrics came from Korea, Hong Kong, New York and even just down the road from The Opera Centre in Sydney's Surry Hills.
The potato-seller is dressed in actual potato sacks, sourced from Fratelli Fresh in Potts Point. They arrived full of earth and the wardrobe team had to shake them out, wash them, cut them and make the costume.
Benoît's eye-catching green-checked suit is the result of some clever problem-solving. Brock found the check in a furnisher's shop in Sydney's Rushcutters Bay, but it needed an overdye from the art department to create the right colour.
Brock purchased most of the hats, but the wardrobe team finished all of them by hand with beautiful trimmings from a vintage shop on eBay.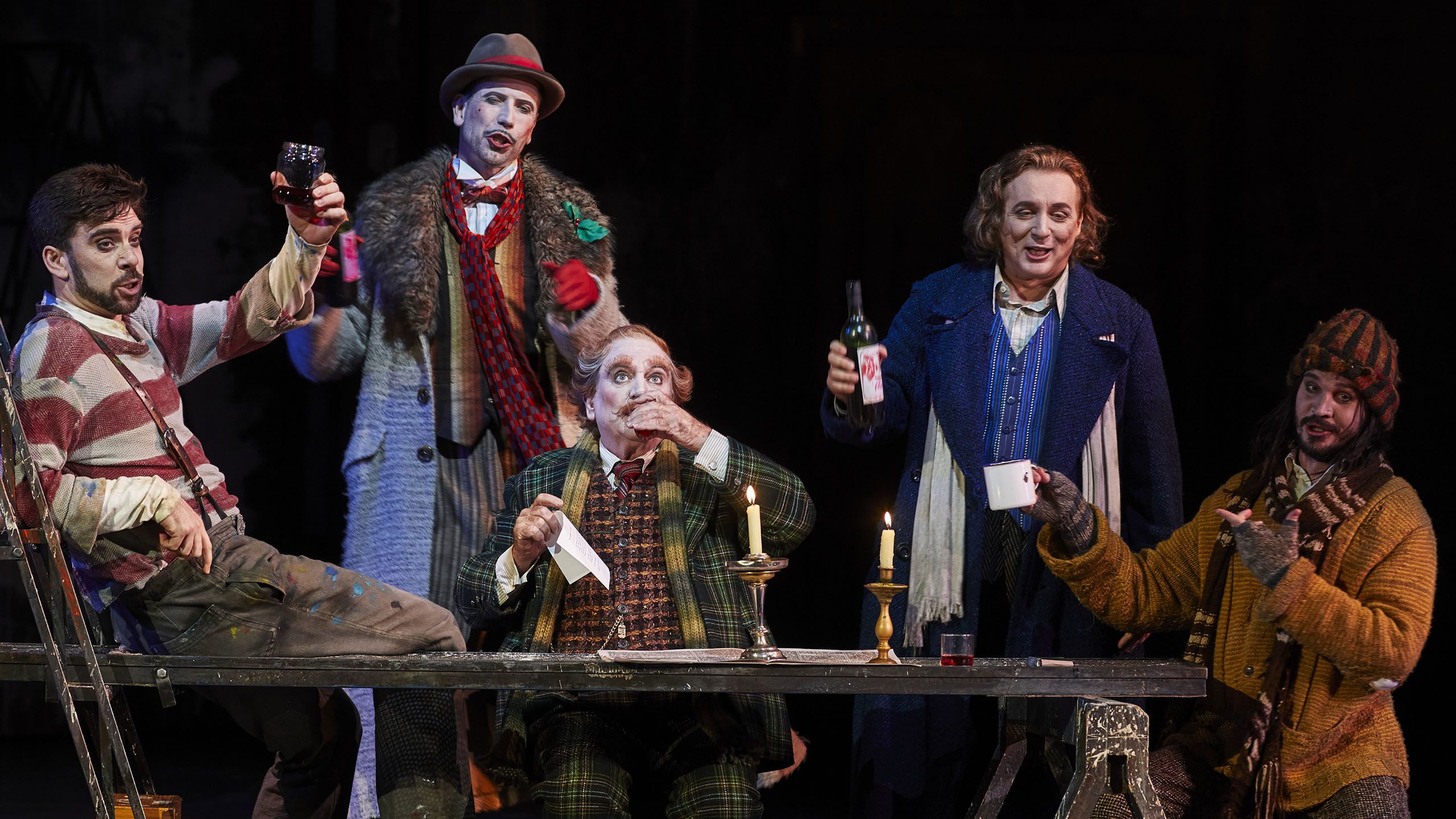 Lynch is an extremely practical designer. She's quite happy to source cheaper, modern fabrics and clever enough to use them in a 1920s fashion. But even a $5 a metre sequinned fabric can work out expensive — delicate fabrics are time-consuming to work with, and in a busy production house, time is money.
All in all, creating the costumes for La Bohème took over 9000 hours. More than 40 people pulled together to create the eye-catching looks in one of Opera Australia's most popular ever productions of La Bohème.
La Bohème costumes by the numbers:
9,000 hours to make the costumes
More than 40 people involved, including the wardrobe buyer, cutters, makers, art department, shoemaker, knitter, wig-maker and even a milliner.
Photo: Keith Saunders