A Stitch in Time
We talked to costume designer Jenny Tiramini about her intricate designs for The Marriage of Figaro.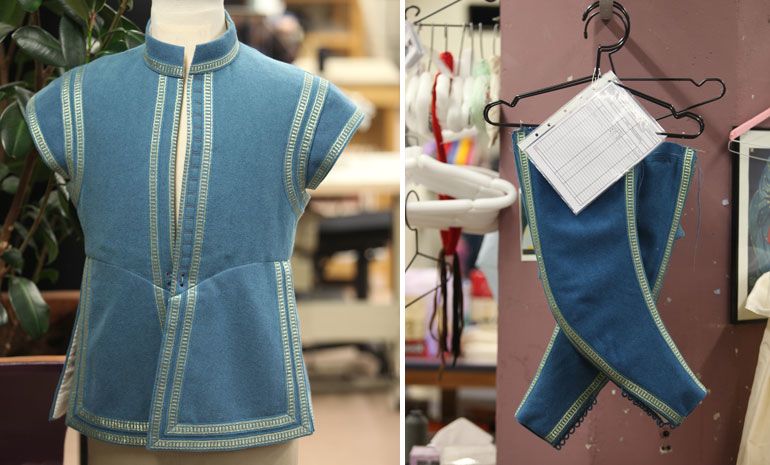 Jenny Tiramani is not your average costume designer. For a start, she's not interested in pretence — she designs clothes, not costumes. There are no press studs for quick changes or zips hidden in the side of button up boots.

It's an approach that comes from a deep love of 'real'. When plenty of real clothing survives from the mid-17th century, why look at paintings and try to make a stylised reproduction of what you see?
"I love the game of studying the real, surviving object — whether it's a linen ruff or a woman's bodice, a man's pair of breeches or hose — and then trying to put them in the right context."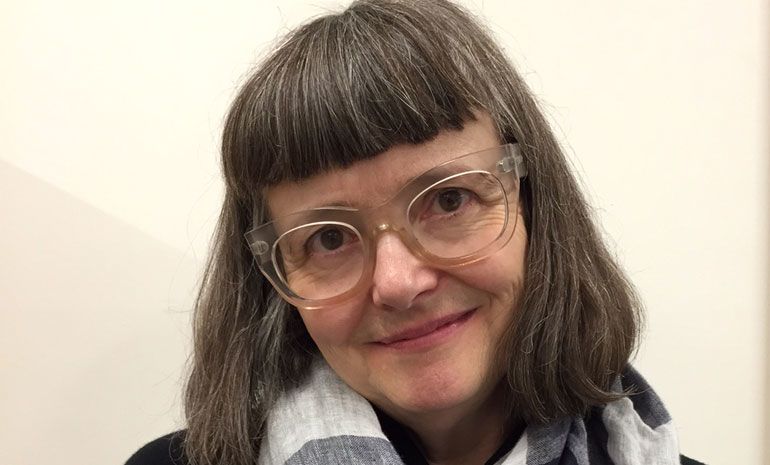 Tiramani is a student of historical fashion, and has published books on the patterns of this period. As we speak, the pages of those books are scattered with post-it notes, because the Opera Australia wardrobe team are using her patterns and surveys of original pieces to make the clothes for The Marriage of Figaro.
"I like to dress performers from the skin up," she says, which encompasses everything from creating the correct undergarments to crafting things out of materials that would have been available at the time.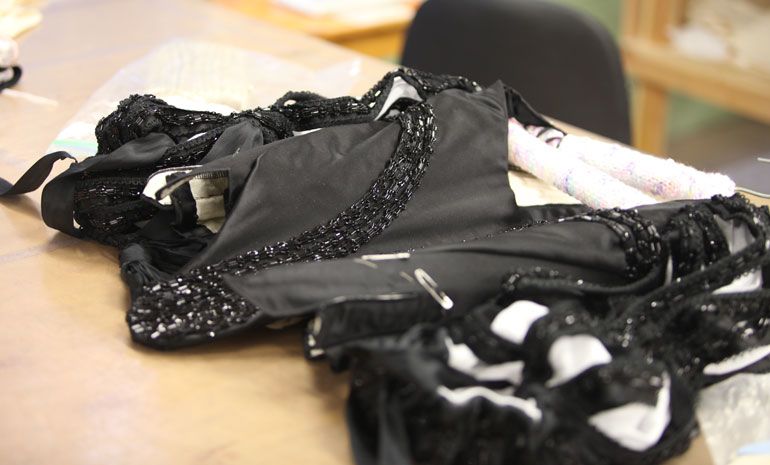 As a designer, Tiramani is shaped by the years she spent at London's Globe Theatre. Inspired by the reconstruction process of the famous theatre, which sought to use techniques and materials available to the original builders, she and her fellow designers sought to apply those rules to costume design.
Her first two shows at the Globe were a "miserable experience," she says. "We'd never tried to be so accurate in terms of historically accurate fabrics, and it was really, really hard. You suddenly realise you can't just go to fabric shops and choose any fabric you like the look of."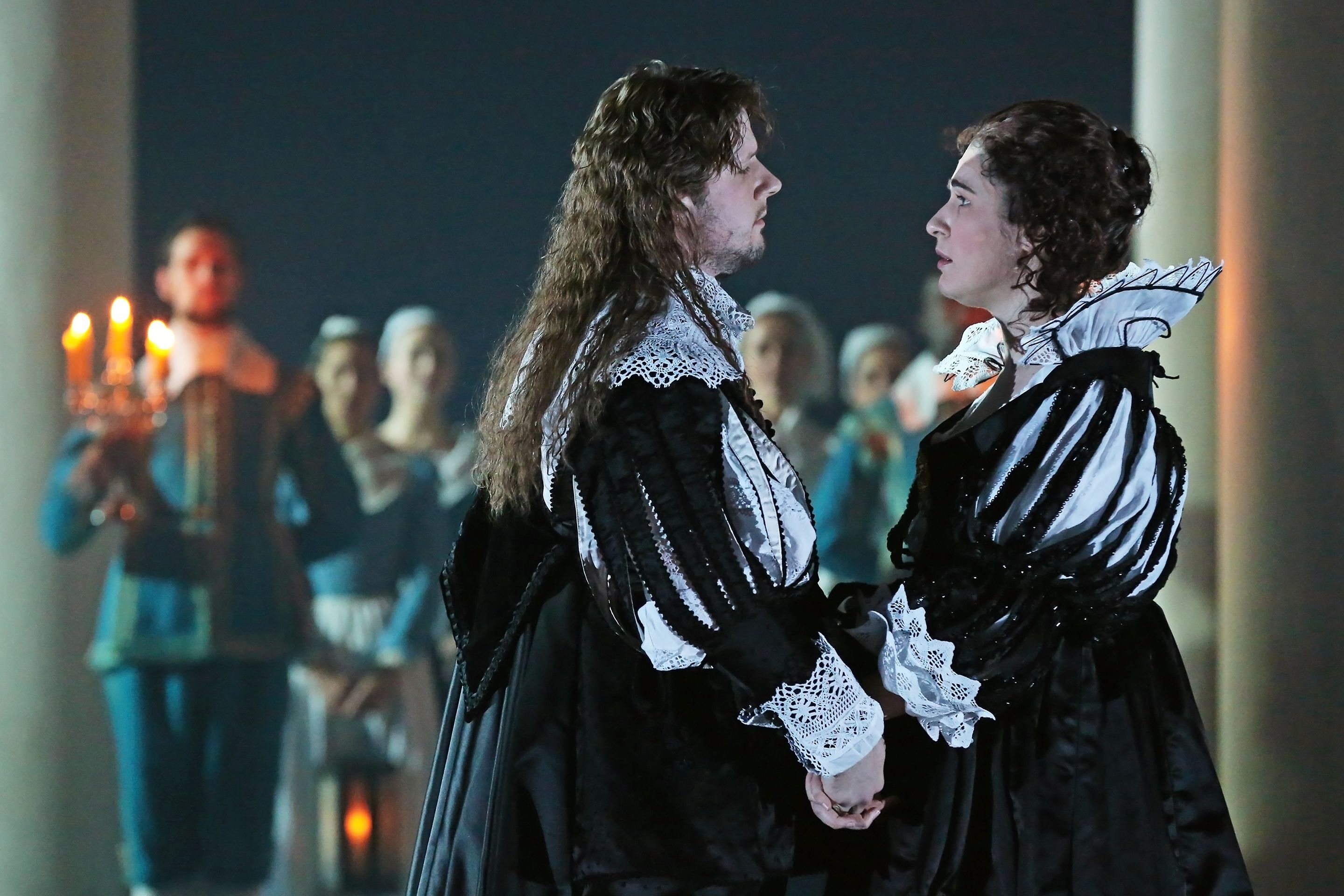 Today, when designing period productions, she works to rules, deliberately limiting herself:
Materials: use the right fibres and colour palette for the period.
Shapes: get the pattern shapes right, so you craft clothes that reflect the proportions of the period.
Construction: the sewing machine was invented in the 1840s, so before that time, everything was made by hand.
Context: dressing each person appropriately for their character's status and position.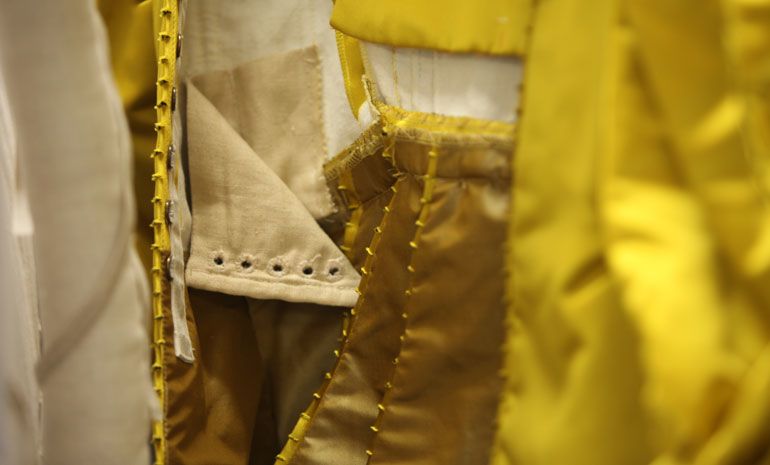 Tiramani's desire to create 'real' has to sit with other real things: budgets, time-frames, availability.
Part of a designer's job is to work out where you can compromise and where you can't.
For example, using a modern fibre would render the whole look and feel of the production incoherent. But in this case, to use original fibres, there needs to be a compromise on construction: the materials used in The Marriage of Figaro are not handwoven or naturally dyed. Not every garment can be hand sewn — there isn't time or money — but Tiramani and the wardrobe department are doing all they can.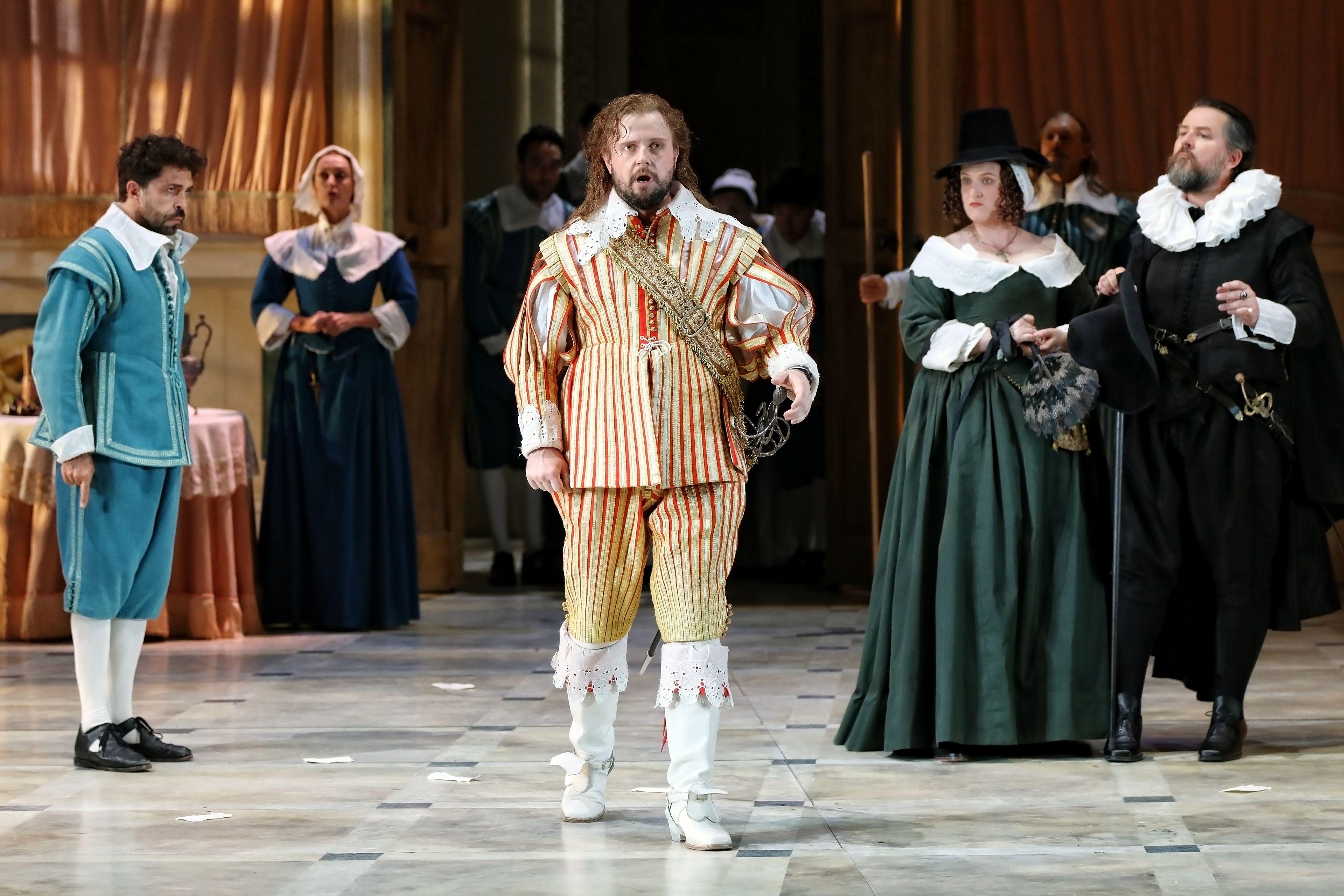 "Wherever you are, you do what you can with the time and money that you've got, and an awful lot of passion from everyone working on the project. None of us would work in the theatre if we weren't prepared to try really hard," she says.
For Mozart's opera to make sense, class lines have to be really clear and powerful, so this production is set in the mid-17th century, where a man of the Count's station would have incredible power over his servants.
"It makes the world seem a long way from our own, a world where we know that women's rights aren't as ours are," Tiramani explains.
While it is up to director David McVicar to make those class distinctions apparent on stage, it is Tiramani's to signify it in dress.
So, the outdoor servants are wearing linen and wool, the most favoured servants wear silk, finer linens and wool, and the Count and Countess wear fine linens and fine wool, silks, lace and lots of silver and gold metal threads.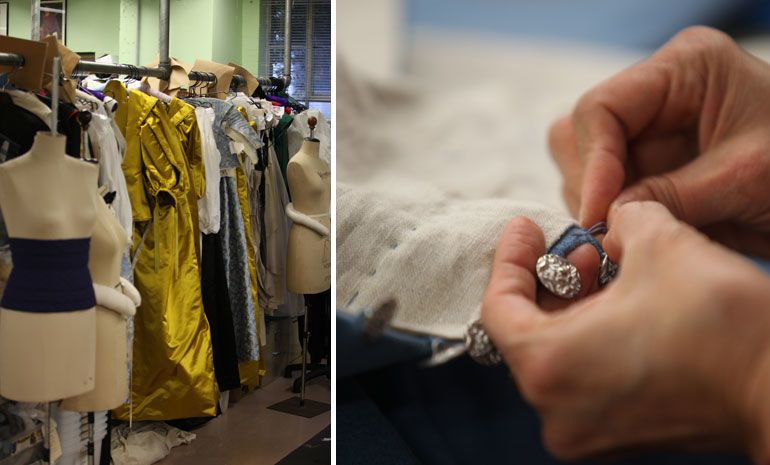 The servants wear blue, which "reads as a colour of service," Tiramani explains (think about blue jeans). "It also meant we could put Cherubino in a very pale blue, which is cute for his role as a rather dressed up, favoured court boy."
The aristocrats wear rich black, red and golden yellow — expensive dyes. The Count wears exquisite lace — lace that would have cost as much as a house.
"I've got a few beautiful pieces of lace. I'm piecing it out — a bit for a glove here, for a trim here, because we have to ration it. We're making it go a very long way because we can't get any more!"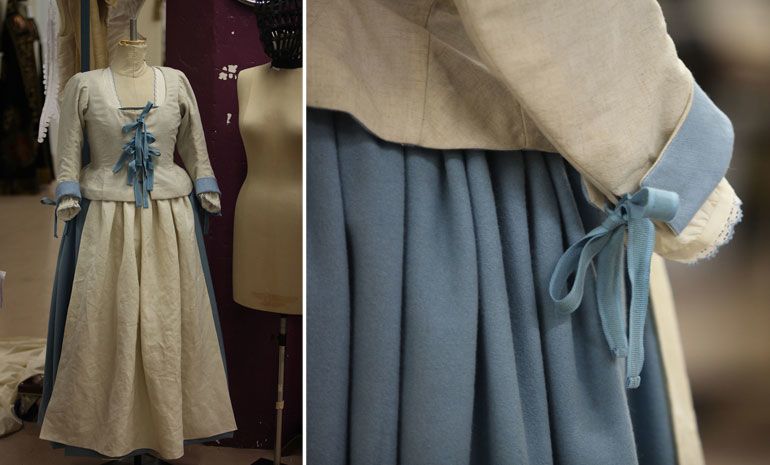 Tiramani is also designing the sets for this production, which allows her to "imagine the whole world".
"With this project, I can put every colour in my mind, I'm working with the whole palette of the stage."
It is rare for her to take on a set design project without also doing the costumes, because for Tiramani, it's about working with people. "I love dressing people, I love talking to performers, I love getting to know them in the fitting room. For me, that is the heart of a show. I love working with performers."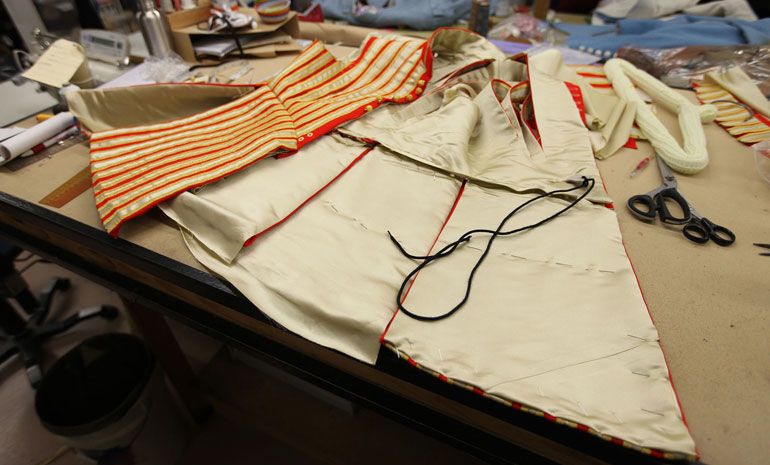 While Tiramani does have a passion for historical dress ("it thrills me, the idea of the beginning of clothes"), she has many strings to her bow. While working on The Marriage of Figaro, she's also working long-distance on a contemporary production of Into The Woods, a brand new script and a new production of a Shakespeare play.
The circumstances of each of these projects is different, and require a different design approach. But ultimately, a designer is trying to find a world for the story.
"Whatever it is, you try to make it make sense, make it inventive and give the performers the right kind of world to tell their story," Tiramani says. "Once you have the world, you can look at what the possibilities are for your characters in their environment. You get into colour and all sorts of detail. That's the journey."
It's easy to tell when you haven't got it right, she says, because you struggle to find solutions. "When you've found a world that makes sense, when everything falls into place, it's a really wonderful feeling, because you know that you've got a world that is going to help the story."
---