Opera through the years: Carmen
See how the world's most popular operas have evolved over the last half century.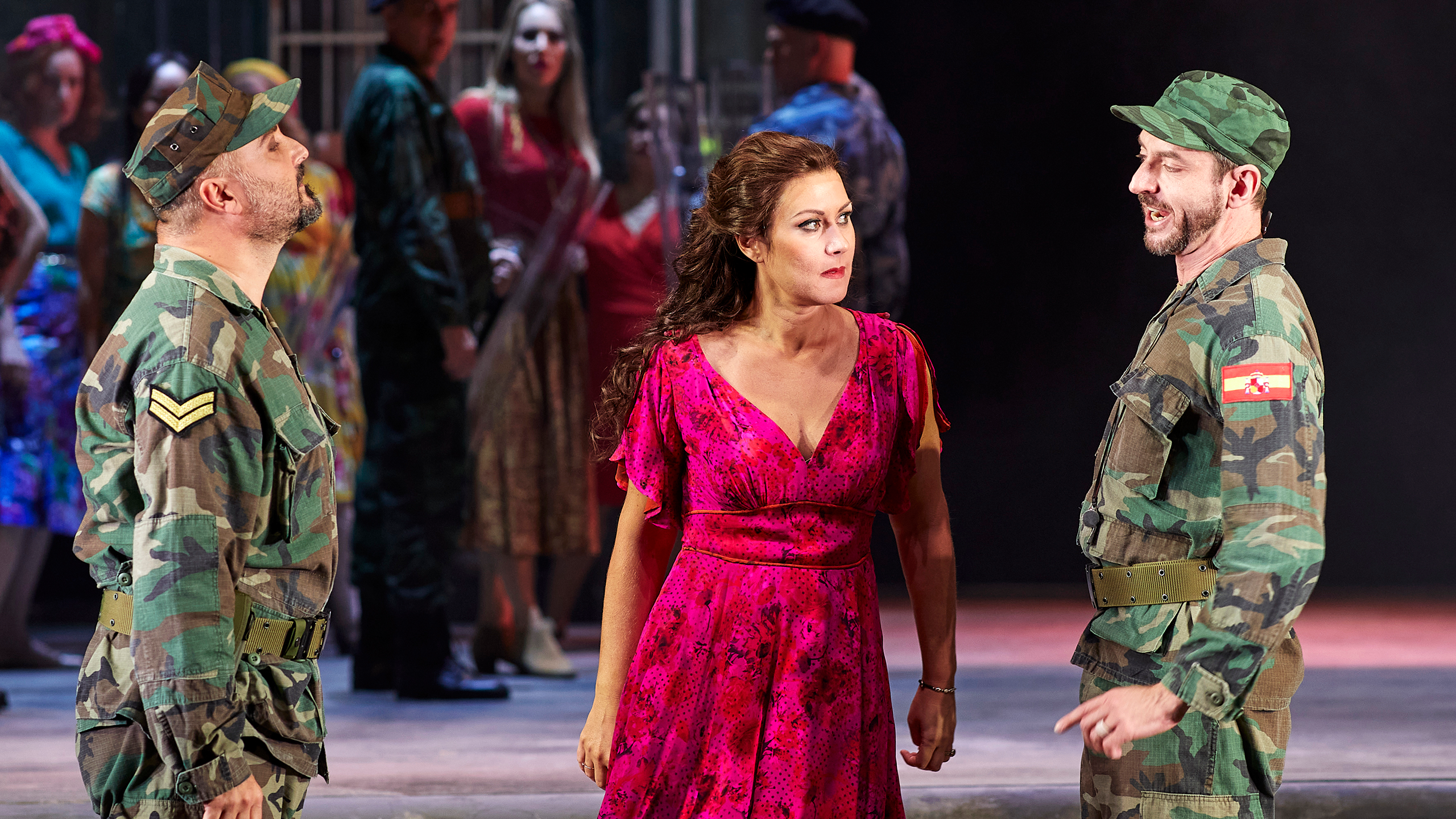 Veronica Simeoni as Carmen in Opera Australia's 2020 production of Carmen at the Sydney Opera House, directed by John Bell. Photo: Keith Saunders.
Veronica Simeoni as Carmen in Opera Australia's 2020 production of Carmen at the Sydney Opera House, directed by John Bell. Photo: Keith Saunders.
A great opera is like a Chanel suit: timeless. And just like a Chanel suit, it can be reimagined for just about any occasion. Over the years, directors, designers and performers find new notes in these stories of people living life out loud, and come up with novel ways of thinking about their struggles and triumphs.
At Opera Australia, we've interpreted and reinterpreted the world's great operas with countless productions that honour a composer's work and speak to new audiences. We've been performing Carmen, Georges Bizet's seductive masterpiece, for more than six decades. Here are some of our most memorable productions.
1958
Just two years after the Elizabethan Theatre Trust Opera Company (now Opera Australia) was established, the company performed Carmen for the first time. Directed by Australian theatre legend John Sumner, the production played at the Elizabethan Theatre, Newtown (which was destroyed in a fire in 1980) with the Sydney Symphony Orchestra in the pit, before travelling to Melbourne's Her Majesty's Theatre.
The title role was performed by English contralto Constance Shacklock, who had a stellar career singing major roles at London's Covent Garden. Three years later, she would leave the world of opera to play the Mother Abbess for six years in the London premiere production of The Sound of Music. Her Carmen co-star was Australian-born tenor Raymond Nilsson, who played Don José.
Shacklock and Nilsson both won praise for their performances, but critics were less convinced by Sumner's production. Val Vallis wrote in The Bulletin that the performers were hampered by a "Hollywoodish" production: "So gaudy and vulgar were the clashes of colour, so overdone the masses of sealing-wax pink, that at times the stage resembled a plastic carton of jelly-beans." Ouch.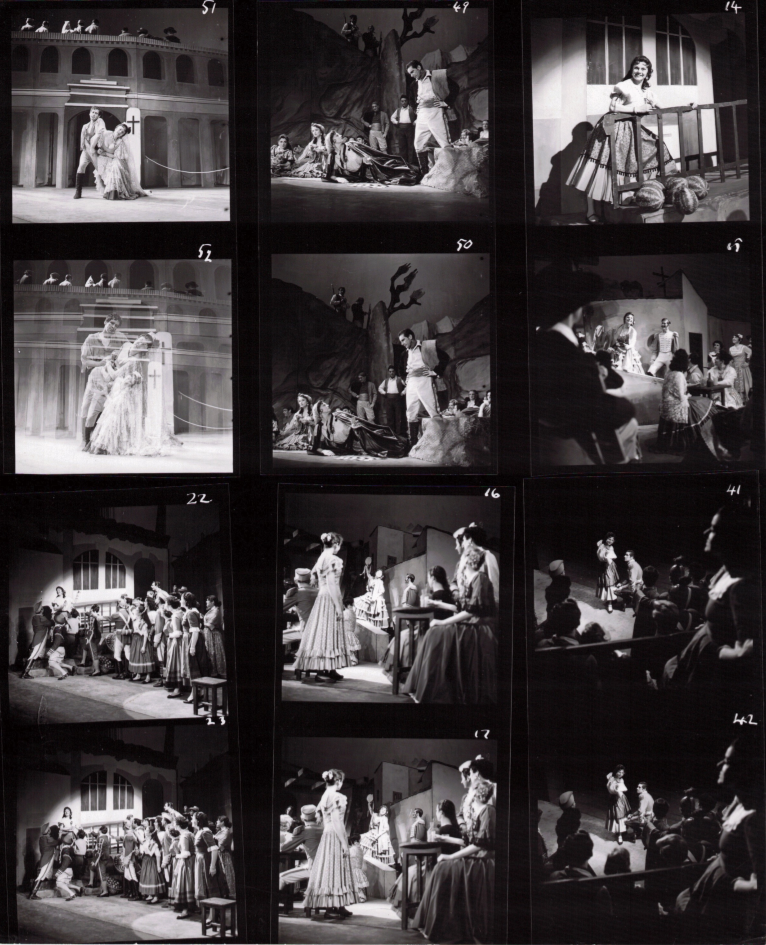 1976
Three years after it opened, the Sydney Opera House hosted its first performances of Carmen, with French-Canadian mezzo Huguette Tourangeau in the title role. Conducted by Richard Bonynge, the production was directed by Tom Lingwood, a British designer who had a long association with Opera Australia.
But at one performance, most of Lingwood's set didn't even make it onto the stage. A strike of stage staff at the Sydney Opera House meant the company couldn't handle complicated scenery changes, so instead Opera Australia pulled in members from all of its teams to make sure the show would go on — albeit with a slightly reduced level of spectacle.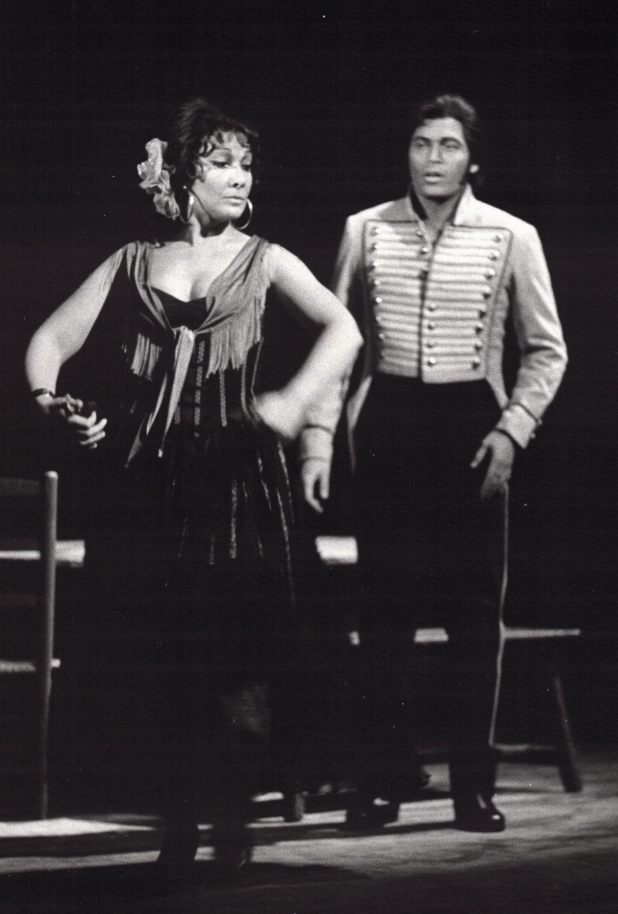 1987
By 1987, it had been nine years since the company performed Carmen. Unfortunately, the costumes for Tom Lingwood's production were destroyed in a fire, so it was legendary British opera director John Copley's turn to create a new production.
Copley had been working with Opera Australia since 1970, and was actually due to direct a production of Carmen in the mid-70s that was sadly called off. Although he'd directed acclaimed international productions of the opera, this was his first time bringing it to Australian audiences. The sets by Robin Don suggested no particular time but conjured up the spirit of Spain, allowing Copley to focus solely on the relationship between the principal characters.
The production opened with American mezzo-soprano Kathleen Kuhlmann as Carmen. Australian singers Jolanta Nagajek and Elizabeth Campbell soon followed in the role.
The production played Sydney and Brisbane in 1987 before Melbourne in 1988.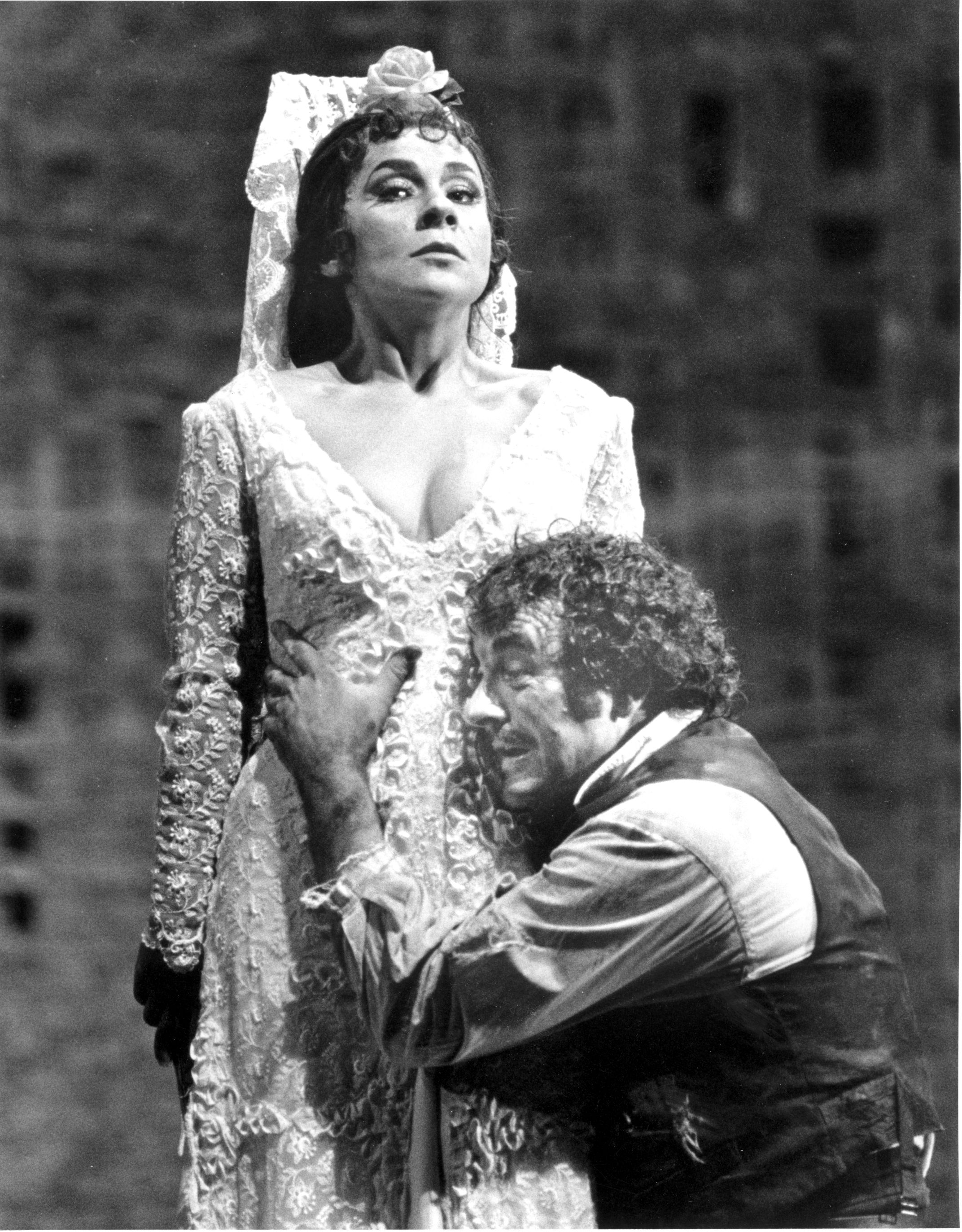 1995
One of Australia's most influential opera directors in recent decades, Lindy Hume reimagined Carmen in 1992, when she was appointed artistic director of the West Australian Opera. It's since been recognised as her "breakthrough" production and came to Opera Australia in 1995.
She took a decidedly feminist view of the story, and critics were impressed by how well her production honoured the score and libretto. Hume focussed on the ways the men in Carmen's life exert control over her and cast Suzanne Johnston as a ferociously independent Carmen. The production remained in Opera Australia's repertoire until 2005.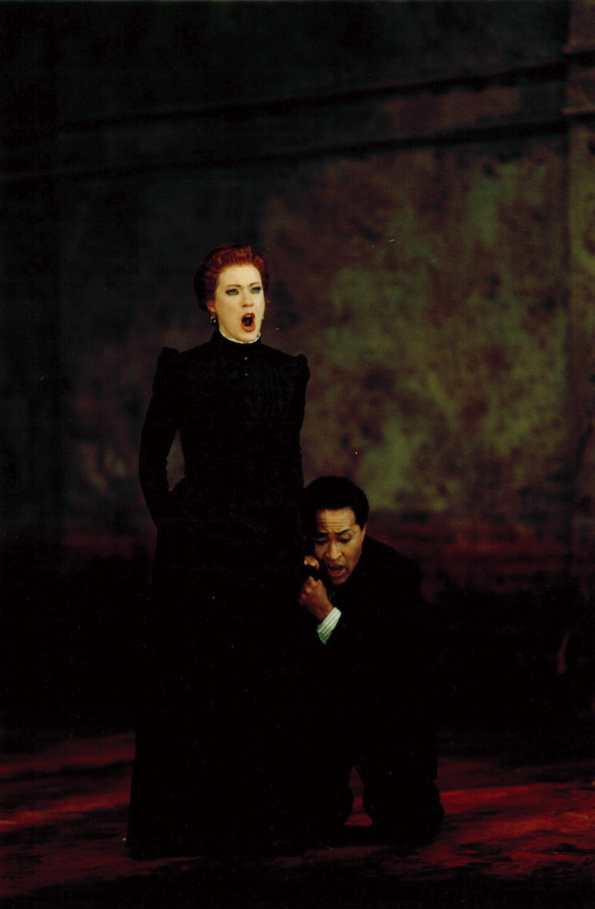 2008
American director Francesca Zambello's production, which premiered at the Royal Opera House, Covent Garden (London) in 2006, picked up on the colours and heat of Spain in summer. Her true-to-period, naturalistic staging starred American mezzo-soprano Kirstin Chávez and Rosario La Spina when it first came to the Sydney Opera House in 2008, as well as a real horse. It also played Arts Centre Melbourne in 2008 and returned to Sydney in 2011.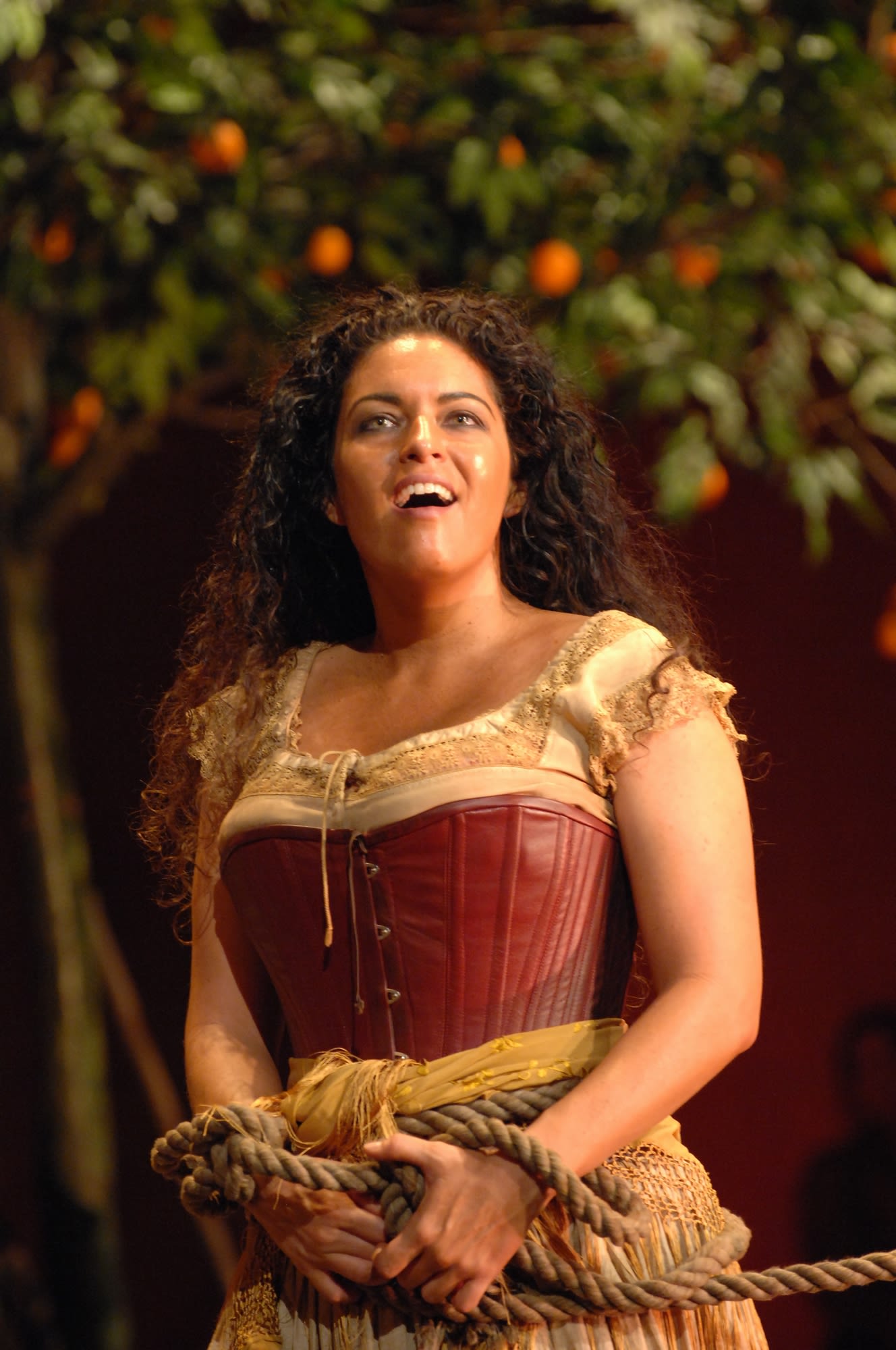 2013
Five years later, Carmen ventured into the great outdoors and onto our harbour-side stage for Handa Opera on Sydney Harbour. Gale Edwards' production was high on spectacle and colour, with dancers choreographed by Kelley Abbey and a set designed by Brian Thomson, which displayed "CARMEN" in nine-metre tall red letters.
Rinat Shaham and Milijana Nikolic shared the title role, while Australian soprano Nicole Car played Micaëla. Two years later, Car made her debut at the Royal Opera House, Covent Garden (London) in the same role. Although any singer would feel nervous making their Royal Opera House debut, it couldn't compete with Edwards' production, which required Car to sing the character's Act III aria, 'Je dis que rien ne m'épouvante', atop a shipping container suspended in mid-air by a crane.
The production returned to Handa Opera on Sydney Harbour in 2017.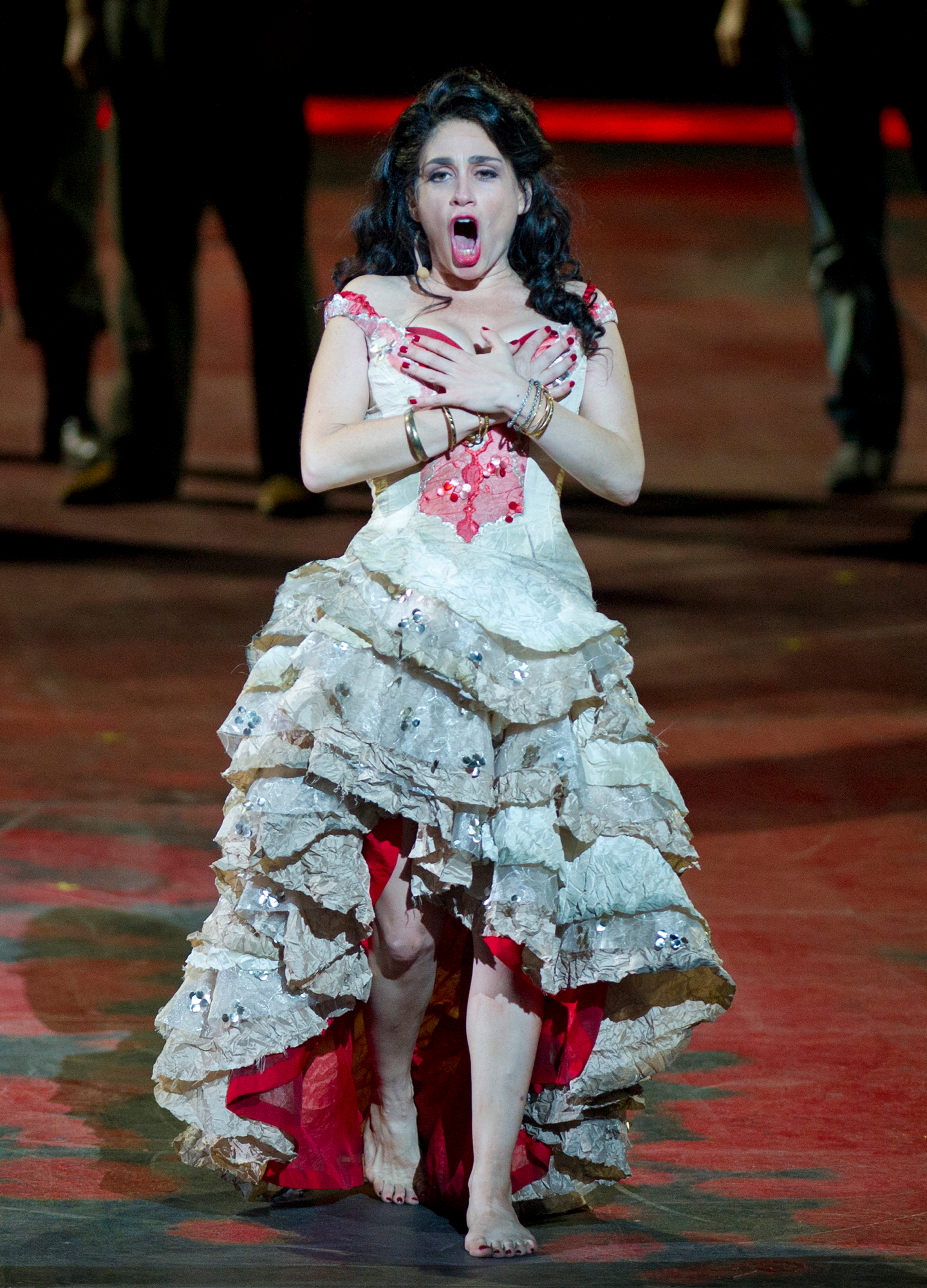 2016
Australia's master of reimagined classics, John Bell, created a more contemporary version of Carmen in 2016, set in a city that looks a lot like Havana. While Zambello used real horses for transportation, Bell used a life-size Kombi van in a pivotal scene, and filled the stage with brightly coloured costumes and dancers choreographed, again, by Kelley Abbey. French mezzo Clémentine Margaine played Carmen opposite Yonghoon Lee as Don José when the production premiered in Sydney.
Bell's production focuses on what the director describes as the "terrible dance of death" between Carmen and Don José.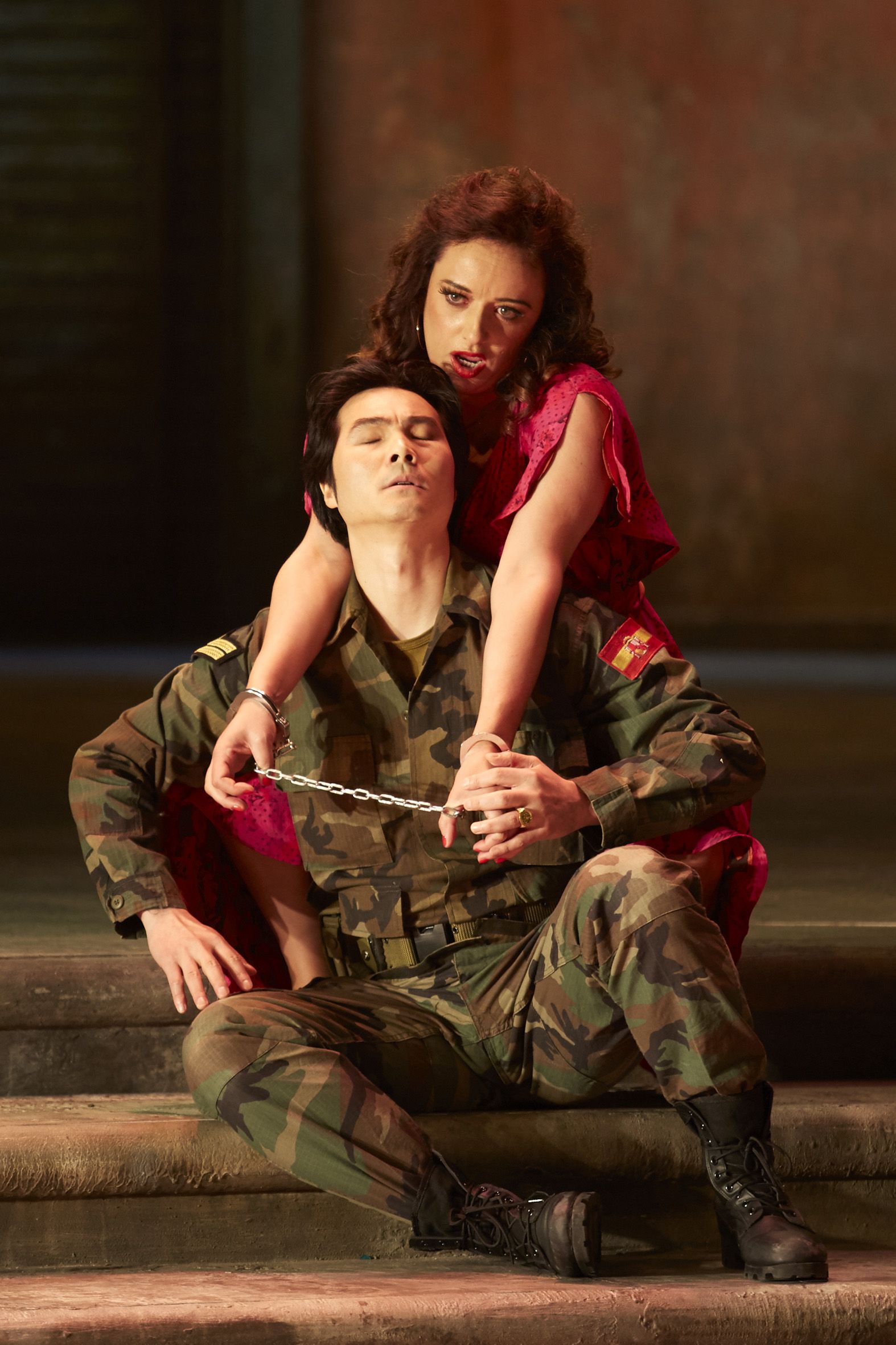 2020 and beyond
While Bell's production remains in the Opera Australia repertoire, we're building a new production of Carmen to take on the road for our national tour. Directed by Matthew Barclay, the production will feature vintage-inspired sets and costumes by designer Anna Cordingley.
The production was due to travel through NSW, the ACT, Victoria and Tasmania in 2020, but has now been postponed owing to COVID-19 restrictions. We look forward to hitting the road as soon as it's safe to do so.